Wednesday, June 30, 2004
Romans 7:13-25
Truthfully, this passage makes me think of Evil Dead II, when Ash's hand turns evil and attacks him. It sounds like Paul is also wrestling with a body that seems to have a mind of its own, though perhaps not quite as literally.


posted by Susanna King 10:59 PM

Tuesday, June 29, 2004
2 Timothy 4:1-8
This passage seems very relevant these days. People switch churches because of quarrels over small points of doctrine. Churches preach hate and ignorance to attract the quarrelsome. I have no problem with seeking out a church where you feel comfortable worshipping. But to church shop until you find a place where the pastor agrees with every peculiarity of your own personal theology ensures that you will never learn and grow there.


posted by Susanna King 11:36 PM

Monday, June 28, 2004
Romans 6:12-23
I like the image in this passage of taking what used to be used for evil and instead using it to do good.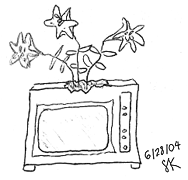 posted by Susanna King 11:05 PM

Friday, June 18, 2004
Matthew 18:21-35
The lesson in this passage is simple: forgive others as generously as God forgives us.


posted by Susanna King 11:50 PM

Thursday, June 17, 2004
Romans 2:12-24
The first half of this passage is amazing. I didn't know that this was written anywhere in the Bible. (What was it I said yesterday about learning new things?) "When Gentiles, who do not possess the law, do instinctively what the law requires, these, though not having the law, are a law to themselves. They show that what the law requires is written on their hearts, to which their own conscience bears witness. " Now, following the Jewish law is not easy, as Paul says in subsequent epistles. But it's nice to see that God has left a loophole for those who haven't yet heard the Gospel.

He goes on to contrast these virtuous Gentiles with the hypocritical church leaders, breaking the law even as they teach it.


posted by Susanna King 6:30 PM

Wednesday, June 16, 2004
Psalm 119:97-120
I especially like verses 97-104. When I stop to think about how much I've learned from reading the Bible over the years, it's quite a lot. And then I think about how much I have still to learn, which is also quite a lot.


posted by Susanna King 11:45 PM

Sunday, June 13, 2004
Galatians 2:11-21
No sketch today, but if you'd like to hear a really good sermon on this passage I recommend listening to the one I heard this morning at St. John's (mp3 format). It really puts the whole passage into the context of the Church at the time, and shows how it's very relevant to us today.
posted by Susanna King 11:33 PM

Saturday, June 12, 2004
Psalm 75
It's good to look back and remember the "wondrous deeds" God has done, both as a body of believers and as individuals: the healing, the saving, the comforting, the teaching, the demonstrations of might and wisdom and love.


posted by Susanna King 11:00 PM

Friday, June 11, 2004
Acts 11:19-30, 13:1-3
These passages are all about the disciples setting up a new church in Antioch. It says that this is where they were first called Christians. Unlike the writer, I never really called myself a Christian until I went to Mount Hermon that summer and made the decision to become one. Now, I try not to call myself anything else. If someone asks, "What religion are you?" I answer, "Christian." That should be enough. If they want to know what church I go to, they can ask that question and I'll answer. But I'm not going to create needless divisions by pretending my church is the whole body of Christ.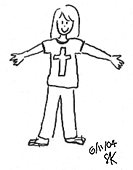 posted by Susanna King 7:08 PM

Thursday, June 10, 2004
Psalm 71
I particularly like the image in verses 17-18 of someone who has remained faithful to God his entire life and now wants to pass that faith on to the next generation before he passes on.


posted by Susanna King 6:55 PM

Monday, June 07, 2004
Psalm 57
The writer points out that the psalmist has found peace in the midst of turmoil. This makes me think of a hurricane with David in the eye, only the eye doesn't pass over him: it follows him wherever he goes as he continually prays and glorifies God.


posted by Susanna King 11:07 PM

Friday, June 04, 2004
Psalm 40
People often talk about the importance of having an open mind or an open heart. But it seems to me that an open ear might be just as important. Like the writer says, we ought to be willing to hear what God has to say.



posted by Susanna King 11:08 PM

Thursday, June 03, 2004
Psalm 50
It says twice here that what God wants as a sacrifice is our thanks. After all, the entire world is his and anything else he could give himself. But genuine thankfulness, love, and praise can't be forced. That's why, to God, they are the most precious gifts we can give.


posted by Susanna King 6:40 PM

Wednesday, June 02, 2004
Psalm 119:49-72
Excerpts from this passage are quoted all the time, but one thing that is never explained is why the psalmist loves the law. It sounds to me like God's law has given some order to his life, and helped him to live in a way that is happier and more fulfilling. That would explain why he loves it so, and why he's able to ignore those who deride him for following it.


posted by Susanna King 10:49 PM

Tuesday, June 01, 2004
Ecclesiastes 2:16-26
Verses 24-26 give me pause for thought. To some, work is meaningless toil. To those who know God, it can be a form of praise. Especially these days I am thankful to have a job, and should try and do it to the best of my ability with joy.


posted by Susanna King 8:27 PM